Local Information
Boracay is a tropical island located approximately 315km (200 miles) south of Manila and 2km off the northwest tip of the island of Panay in the Western Visayas region of the Philippines. Famous for its powdery white sand and crystal waters, it is a popular tourist destination especially during the summer and December holidays.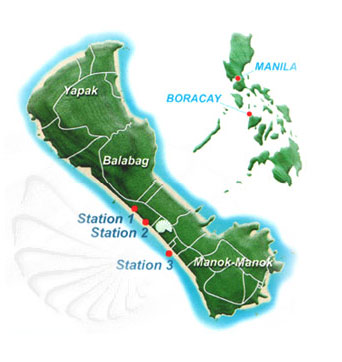 Resort Location on the Island
Henann Garden Resort is located at Station 2 (middle) of the island. The resort's lobby is right beside the Station 2 road access to the beach where transporation services can easily be accessed. It is a quick walk to the beachfront via the reosrt's private access to the beach front. Many establishments such as restaurants and retail shops can be located around the area. D' Talipapa, a wet market selling bargain items is also a very short walk away while D'mall retail area is only a 5 minute walk away.
Weather
Boracay's climate is consists of a wet and dry season. The dry season starts from around September or October to sometime in May or June and is charaterized by moderate temperatures with little or no rainfall. The wet season starts around June lasting until the end of September and presents warm and humid weather with frequent rainfall.
Leisure
The island offers a wide range of restaurants, bars, pubs and nightsclubs most within eas access from the from beach pathway along Station 1, 2 and 3. There are numerous watersports activites including jet ski, scuba diving, snorkeling, banana boat and a lot more. For more information on what to do during your stay, our guest services desk is at our service.
Transportation
Boracay is separated from mainland Panay by a narrow strait. Access to the island is available by boat from the Caticlan port in Panay Island. The nearest airports to the port are the Caticlan airport or Kalibo airport . On the island, tricycles are abundant in the main road and motorbikes are also available. Walking at the beachfront path is also another option.
Peak Season: December 1, 2016 to June 3, 2017 and November 6, 2017 to March 31, 2018
Lean Season: June 4 to November 5, 2017
Super peak season: Christmas & New Year December 25, 2016 to January 2, 2017/ December 25, 2017 to January 2, 2018. Chinese New Year January 27 to Feb 1, 2017/Feb 15 to 20, 2018. Holy week April 13 to 15, 2017 / March 29 to 31, 2018. Labor day April 28 to May 1, 2017.
*Resort land and sea transfers from Kalibo and Caticlan airports are subject to a fee or may already be included in certain packages